Ellensburg High School
Class Of 1979
In Memory
John Childers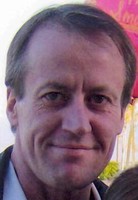 John Childers
Sept. 9, 1960 to March 1, 2008
Veteran
John E. Childers, 47, of the Kitsap area for the last 3 years and formerly a Tacoma resident for 12 years, passed away peacefully in his sleep on March 1, 2008.
He worked as a safety inspector for nuclear power plants around the world. He graduated from Western Washington University and Kennewick High School and loved traveling the world.
Surviving family members include children, son, Shaydon and daughters, Lexie and Sasha; the children's mother, Shirlene Childers; father, Jack Childers (Linda) of Kennewick; mother, Sandra Davis (Joe) of OR; sisters, Darci Chan (Ken); and children, Natalie and Maggie, all of CA; and Lori Childers of OR.
A memorial service will be held at Haven of Rest Chapel on Saturday, March 8, 2008, at 2 p.m. A reception will follow.