Ellensburg High School
Class Of 1979
EHS Flashback
Some music from the "Reunion Music Ideas' link, submitted by classmates:
src="http://www.profileplaylist.net/mc/images/get_blue.jpg" />
Do you have a favorite memory from attending EHS? Send a message to the site administrator from the 'Contact Us' link and I'll post your story. After 30 years, it will be fun to see what memories stand out.
From Mary Gordon:
I remember for our sophomore class fundraiser we decided to sell Christmas trees. Everyone who could gathered, jumped in a truck and we headed to the hills. I think we sold them in the Jerrol's parking lot....I remember it was so fun. I rode with some kids in a truck with Dean Jump driving, and as I think about it there couldn't have been that many of us who had their driver's licenses in the late fall of sophomore year. I remember we made a ton of money, but did we have permits to cut down trees? We had no adults with us, just a bunch of high school kids with chainsaws......the mom in me thinks it sounds like a bad idea, but I remember it being really fun!
Our juinor year the basketball cheerleaders did a great starting line up for the players, complete with spot lights, live music, etc. I think it was Bill Bilyeu (deseased), Jim Wickerath (ER doctor here in Ellensburg, and Charlie Lowther. The song was 'Free Ride' by the Edgar Winter Group. The crowd was great, and we were the only school in the league with the live band. I seem to remember Nikki and Misty Dahl made up the routine and the routine froze and music stopped when they introduced the players.... the very next year the Principals from the league made a rule that you couldn't introduce players with live music and you couldn't turn out the lights, ending our fun. But it was fun while it lasted. Now all schools in the state are required to introduce the starting line up alternately so there is no favortism. A bit too politically correct for my taste.
I don't remember what year it was, but some guys from our school dropped a bale of hay on the Wapato bus as it passed under the overpass on Tjossem Road. I can't remember if they were caught or got in trouble for that, or if they were from our class. I believe it was football season but it may have been basketball season. Probably a felony if there ever was one.....I don't think anyone was hurt but I'm sure the bus driver remembers it!
I'll never forget Jeri Watson winning the state title in the 2 mile. The two mile was always the first track event, run while others were getting ready, setting up hurdles, etc. Jeri never had any competition her senior year so she was always way ahead and running alone. It seemed really hard to me to run that far and run alone, but we cheered a lot. It hasn't been done since, at least not in the 2 mile from Ellensburg. The last I checked no Ellensburg athlete had even touched her record, and it's been 30 years. Boy, could she run.
Our 3rd place state team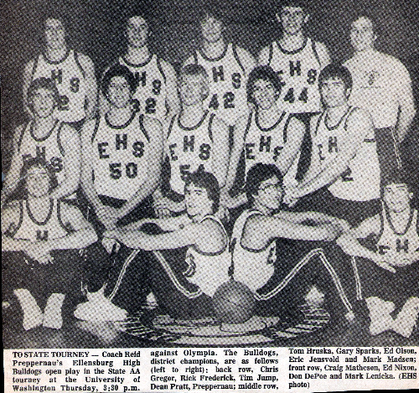 Mike and Jim, Graduation Weekend up in the hills
50's Homecoming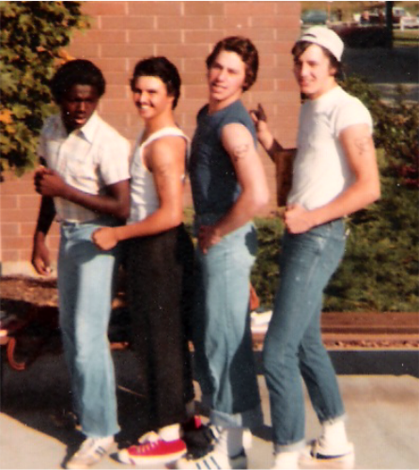 1979 Graduation- Urban and Amy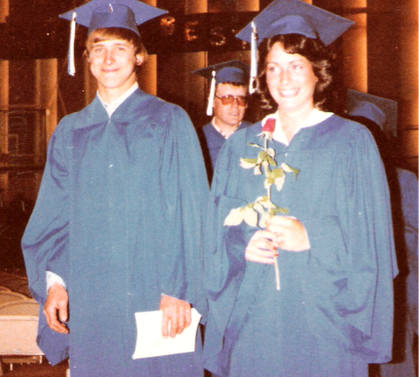 Tim Knudson and Greg Schliesman, 1979 Senior Party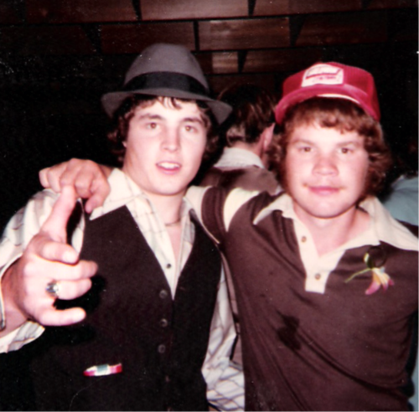 Senior Year Alutant Staff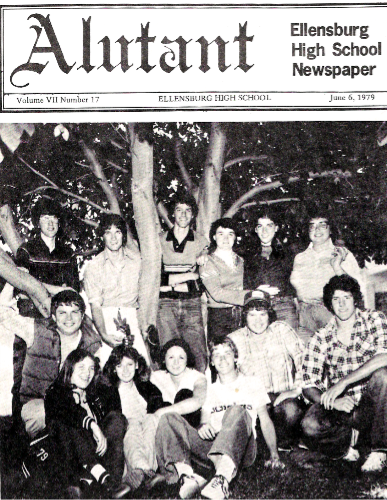 8th Grade Varisty Basketball Team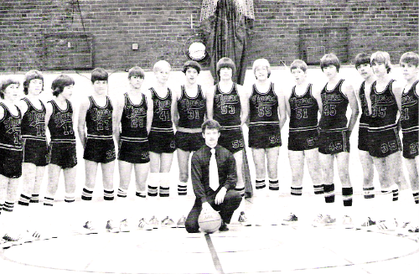 Eburgettes, Sophomore Year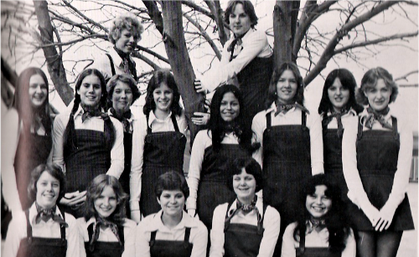 Senior VICA Club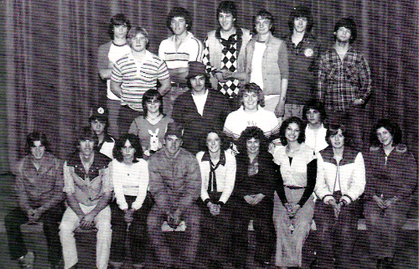 Senior DECA Club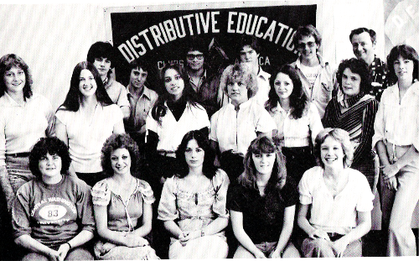 EHS Frosh Baseball, Spring 1976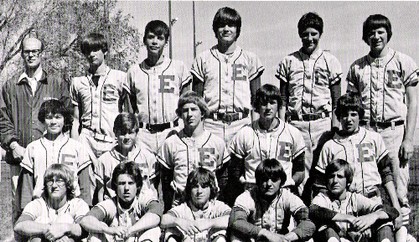 Senior Year, Nikki, Inger, Barb and Mary with Sherri Voss in the air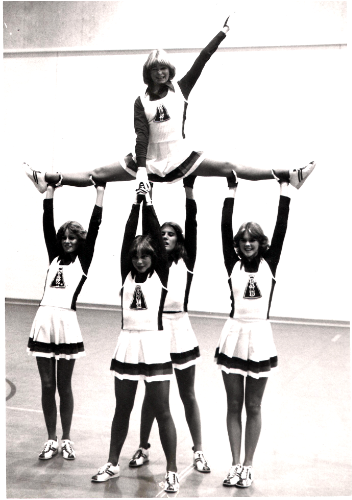 Senior Prom, 1978?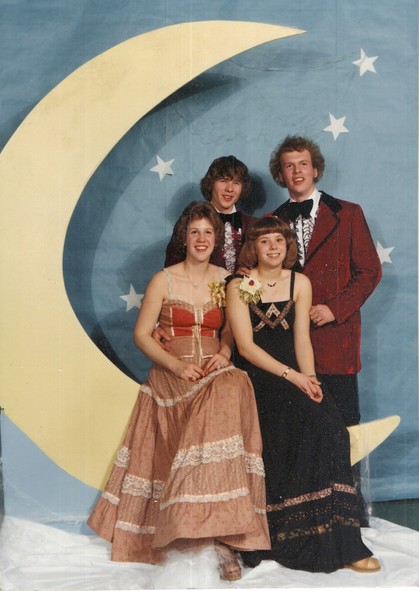 Senior Prom, 1979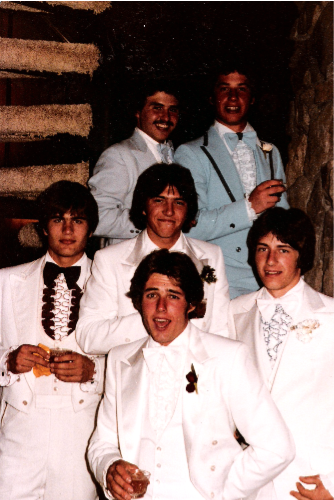 On to State! February, 1979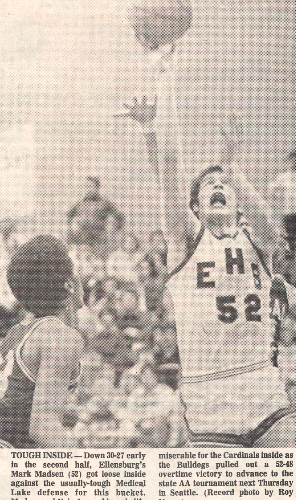 School Spirit at its best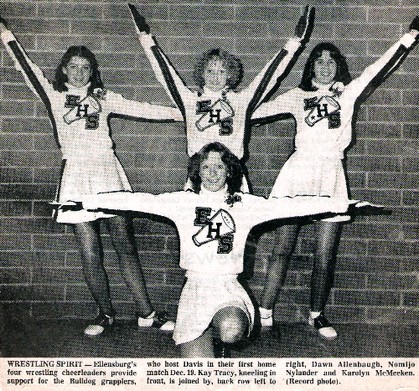 Who are these boys?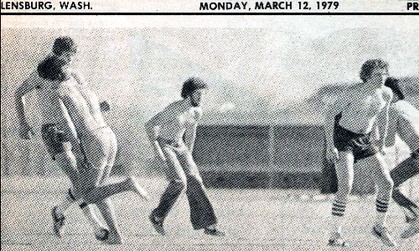 Did you make this list?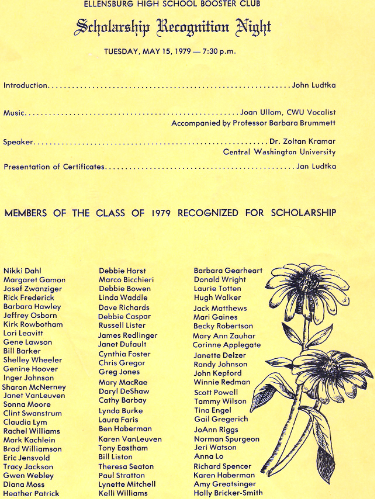 Do you recognize any of these '79 grads?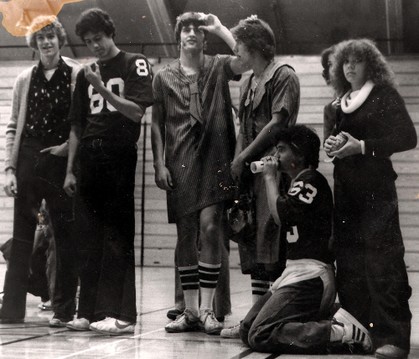 Here is a photo of the school we attended! The original building was built in the mid 1950's, and the campus we knew came to be from a bond passed in 1970/71. This photo is from 1971 just after construction was completed. Additions included the senior wing, little theatre, auxilliary gym, art building, expanded shop areas, and main office area. All that's left from this campus is the senior wing/little theatre, main office (now houses district personnel) and the football field. The new building is constructed on the baseball fields at the top of the photo, and new athletic fields cover the space from the left of the tennis courts to the senior wing. And, the drive through between the tennis courts and the football field is no longer there. Look closely- is that the driver's ed simulator trailer in the parking lot along the fence of the baseball field? Special thanks to Joy Lessard, current EHS Journalism teacher, for allowing me access to this photo located in her room.