Ellensburg High School
Class Of 1979
In Memory
Ken Exelby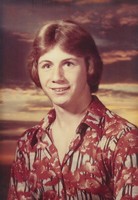 MY NAME IS ROB EXELBY, BROTHER OF KEN EXELBY. WE ONLY LIVED IN ELLENSBURG A SHORT TIME, BUT I HAVE FOND MEMORIES OF LIVING THERE. ELLENSBURG WAS THE LAST PLACE THAT MY BROTHER AND I LIVED TOGETHER. I MISS HIM DEARLY.
WHEN I GOT MARRIED AND HAD MY FIRST BORN SON I PROUDLY NAMED HIM KEN. AS YOU WONDER WHY I SENT A PHOTO OF MY SON (HE IS THE ONE HOLDING THE FISH) MY SON KENNY WAS KILLED IN A CAR ACCIDENT AUGUST 15TH. 2008.
I THANK YOU FOR GIVING ME THE OPPORTUNITY TO SEND YOU THIS INFORMATION OF THE TWO MOST IMPORTANT PEOPLE IN MY LIFE. (OTHER THAN MY WIFE OF COURSE).
GOD BLESS THE WHOLE CLASS OF 1979