Ellensburg High School
Class Of 1979
In Memory
Jeff Howe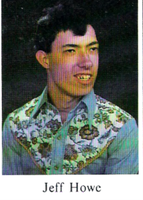 October 16, 1959 ~ December 9, 2000
Jeffery L. Howe died December 9th, 2000 at Kittitas Valley Community Hospital.
He was born in Ellensburg on October 16, 1959 to Roy and Sharon (Moore) Howe. A life-long resident, Jeff worked for a time for Twin City Foods. He was a member of Chestnut Street Baptist Church, liked to build models, and was an avid train buff who was considered an honorary employee of the BNSF Railroad. Jeff liked to play pool and belonged to the state pool league. He was considered one of the best pool players in town.
Jeff was survived by his sister, Sally (Ray) Carroll of Moses Lake; uncles, Gary (Lynne) Moore of Seattle and Elva (Dee) Howe of Black Diamond; aunts, Darlene (Neil) Stoneburg of Utah and Sue Howe of Redmond; as well as numerous nieces, nephews, cousins and friends.
A memorial service was held on December 13th at Chestnut Street Baptist Church in Ellensburg.